Friday 24th December 2021 07:30 - 16:00
Saturday 25th December 2021 CLOSED
Sunday 26th December 2021 CLOSED
Monday 27th December 2021 CLOSED BANK HOLIDAY
Tuesday 28th December 2021 CLOSED BANK HOLIDAY
Wednesday 29th December 2021 07:30 - 18:30
Thursday 30th December 2021 08:00 - 18:30
Friday 31st December 2021 07:30 - 16:00
Saturday 1st January 2022 CLOSED
Sunday 2nd January 2022 CLOSED
Monday 3rd January 2022 CLOSED BANK HOLIDAY
Tuesday 4th January 2022 NORMAL OPENING TIME RESUMES
Accessing NHS Services over the Christmas and New Year Period
Accessing NHS services over the Christmas and New Year period
The NHS is here to help you over the Christmas and New Year period – so make sure you know your services to get the care you need.
GP practices will generally be closed on the bank holidays, so will not be making appointments for in-person or telephone consultations on those days. Remember 111 online can help you if you have a medical problem which isn't an emergency, and you don't know what to do. Alternatively you can contact the NHS 111 service by dialling 111.
Many pharmacies will also be closed, but some will operate on a rota system to provide cover.
It is a good idea to be prepared for common health problems by keeping a well-stocked medicine cabinet at home.
Prescriptions Please order any repeat prescriptions you require in time to ensure you have adequate provision over the bank holidays. You can find out about all the ways you can order your repeat prescriptions here. Please do not go to your GP practice or pharmacy to order prescriptions and only phone them if you cannot order online or by an app.
GP hours over the bank holidays Based on an analysis of the demand for services in 2019 and 2020, practices will be offering more appointments at the beginning of the weeks leading up to Christmas and New Year to meet necessary demand and will continue to offer care and services throughout the week.
GP practice services will largely be closed on Monday 27 December, Tuesday 28 December and Monday 3 January. If you need medical advice, please contact NHS 111 through either their online service https://111.nhs.uk or by calling 111.
NHS 111 is available 24 hours a day, 365 days a year. NHS 111 will be able to assess you and point you to the right service for you, based on your symptoms – whether that be to a GP, A&E or self-care – and can arrange a call back from a nurse, doctor or other trained health professional should you need it, to get you the support that you need.
If you are in a life-threatening situation Please remember that if you have a medical emergency, such as a suspected heart attack, stroke, or other serious life-threatening condition, call 999.
Community pharmacy services over the bank holidays Some community pharmacies will be open on Monday 27 December, Tuesday 28 December and Monday 3 January. Please check the NHS England website for pharmacy opening times and other useful information about accessing NHS services over the bank holiday period. Alternatively you may wish to visit your pharmacy website or call them for more information.
Message to our patients – update on the COVID-19 booster programme
Across Derby and Derbyshire, the NHS and its partners are working extremely hard to roll out the COVID-19 booster vaccination programme to our communities.
All adults are eligible from Monday 13th December, and you will be able to book via the National Booking System from Wednesday 15th December.
You can book your booster for 3 months from the date of second vaccine, and you can access the National Booking System to book the appointment from 2 months.
We are working at pace to increase the availability of appointments so that there are plenty of options for people on the National Booking System. Some local vaccination services may also contact patients directly. New appointments are being added every day across our vaccination services. Further availability will come online from Wednesday 15th December.We will be working with all of our sites to take further steps to increase what they can offer again, including opening later and on more days. All of these appointments will be added to the National Booking System and so we encourage everyone who is aged 18 and over, is yet to have their booster and who is approaching 3 months from your second vaccine to use the National Booking System to arrange your appointment when you are able to do so.
In terms of any planned appointments with North Wingfield Medical Centre, there are no changes at the current time, and everyone should attend their planned appointments as normal. If we need to make any changes, we will contact you directly.
Information on your Covid 19 Vaccination Status
Changes to Covid 19 restrictions on 19th July 2021
North Wingfield Medical Centre is a healthcare setting and despite restrictions changing on 19th July 2021, we still ask that you wear a face covering and adhere to social distancing whilst you are within our building as per Public Health England. Thank you for your co-operation.
Welcome to North Wingfield Medical Centre
With patients' needs at the heart of everything we do, our website has been designed to make it easy for you to gain instant access to the information you need. As well as specific practice details such as opening hours and how to register, you'll find a wealth of useful pages covering a wide range of health issues along with links to other relevant medical organisations.
Of course we're not just here for when you are unwell. Our team of healthcare professionals and back-up staff offer a number of clinics and services to promote good health and wellbeing whatever your medical condition.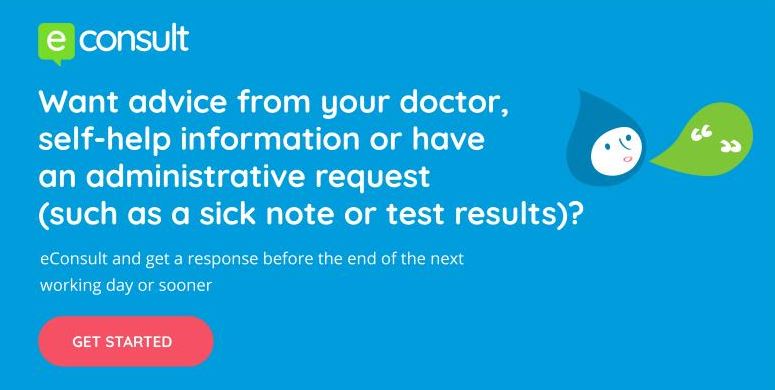 Keep up to date with the latest practice news
Newsletter
To receive future editions of the newsletter straight to your inbox sign up below.